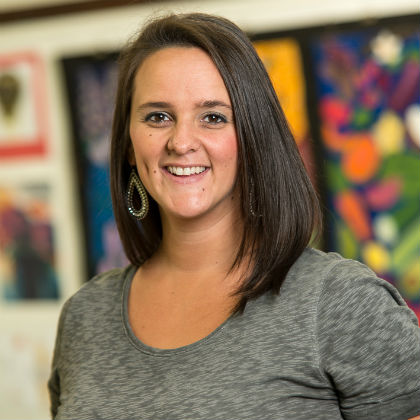 Molly King
Middle & High School Movement, MS Advisor, Founder
Office Hours : Dance Studio
M: 2:15-4
T: 2:15-3:30 (By Appt.)
W: In School GWT (By Appt.)
R: 2:15-4:00
F: 2:15-3:30 (By Appt.) 
...
"Dance is natural to the human body," observed Molly King, who is starting her ninth year of teaching dance in the district.
"Anyone can dance,'' she shared. "When you really think about it, you are constantly dancing every day. Your daily routine and schedule lay out the dance steps you take."
As a teacher, Molly helps students "find their inner dancer."
"Different techniques speak to different people," she explained. "Those that like to feel grounded will enjoy a style like modern or African dance. Others who enjoy leaping and taking risks might find ballet more enjoyable. And those who like to feel good and have a healthy mind, body and soul will enjoy yoga."
At both IDEAS and Mosaic, Molly teaches yoga, ballet, modern, African dance and a dance composition class. 
In 2006, Molly earned a bachelor of arts degree in dance, with a teaching certification for K-12 and a minor in psychology, from the University of Wisconsin-Milwaukee.  As of recent, she has earned her Special Education license through Cardinal Stritch University and will receive a Masters of Arts in Teaching in May of 2015.
"I was one of the original teachers who taught for these charter schools when they were just 'arts-infused' programs," she recalled. "I came into this position feeling blessed. To jump right from college into my dream job was a fantastic feeling. I never imagined that I would not only be able to teach dance, but also be an integral part of the development of these schools."
Molly has been dancing since she was 4 years old. "I was a part of William Reilly's Academy of Ballet studio, located in downtown Milwaukee," she said. "My mother always told me that as soon as I could walk, I danced. I was a constant mover and enjoyed waltzing down the aisle during church. Dance made me happy, and I always felt comfortable in my steps."
In addition to her work at Mosaic and IDEAS, Molly teaches at the John Michael Kohler Arts Center. She teaches ballet, modern and hip hop for ages eight to 14.  With fellow community members, she also co-created the 6th Street Dance Company, "a local dance troupe involving creative individuals from the community who are inspired to make dance and do dance."
It will likely come as no surprise that Molly enjoys dancing as a hobby. She has been a part of Pommersche Tanzdeel Freistadt, a German folk dance group, for more than 20 years. The group has performed all over the United States and even in Germany in 2007. Molly is an active dancer for the troupe and also serves as assistant director for the adult group.
"My dance company and my German dance group are my escape from my day job!" she noted. "Instead of teaching, I get to be the one dancing!"
Molly's other interests include running, baking, hiking and traveling. She recently received a sewing machine and would like to start making clothes.
She is always on the lookout for dancers, though.
"It makes my heart smile to see cautious feelings melt when it finally clicks for someone that they really can, in fact, dance. It's satisfying to know I have made that impact on them."
LiLa Moua, who graduated from Étude High School in 2012, was one such student.
"I still remember the day he stepped into my classroom, scared and nervous," she said. "He told me, 'I can't be in your class. I don't know how to dance.' I replied, 'If everyone knew how to dance, I wouldn't have a job.' "
Molly was able to watch LiLa grow as a dancer during his four years at Étude, and his Showcase performances regularly drew large crowds because he addressed compelling topics through his movements.
"I have seen more students like him also find their niche in dance, and I feel honored to have helped them find it," Molly said. "The confidence they find will not only help them in my classroom, but will continue to leave an impression on them in all that they do."