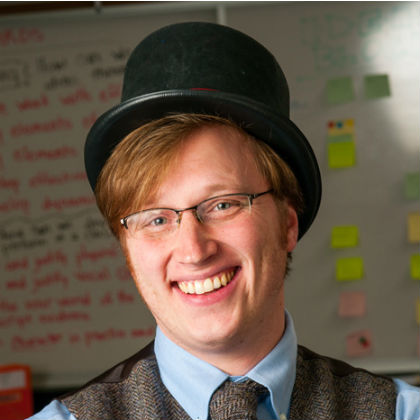 Mike Q. Hanlon
Middle & High School Dean of Culture, Theater and Film Teacher, HS Advisor, Founder
Students at Étude Middle and High School know him as drama instructor Mike Q. Hanlon, but in the community he's often recognized as "the guy in the Van Horn Chevy commercials."
Mike has been in a few other local television ads and has performed with the Theatre for Young Audiences and the Sheboygan Theater Company.
"I did act in one feature-length film," he said, "but fortunately it never saw the light of day!"
The Wisconsin native roamed around the country – Minnesota, New York and California - after high school. He graduated from the University of Wisconsin-Milwaukee with a bachelor's degree in theater education. While at UW-M, he was in productions of "One Flew Over the Cuckoo's Nest" and "Welcome to the Moon."
"I spent more of my time cultivating my own theater troupe, Alamo Basement," Mike recalled. "Our troupe started performing in coffee shops around Sheboygan, but gradually grew to legitimate venues in Milwaukee and Madison. We were also the first group from Wisconsin to perform at the Chicago Sketch Comedy Festival. We ended up performing there for three years."
Mike's mom is the driving force behind his interest in performing. When the Theater for Young Audiences started in Sheboygan, she encouraged him to audition for its first production, "Mr. Popper's Penguins."
"I immediately felt a confidence in what I was doing, and I was cast as the 'lead penguin,'" Mike remembered.
These days he spends most of his time sharing his love of theater with students.
"Mosaic and IDEAS both have classes that fit into the traditional mold of a drama department; the Acting seminar focuses on developing a character, Scriptwriting has students reading published plays while also writing their own, and Storytelling has students gather stories from their community in order to retell them in first person."
"We also offer a few unique drama classes that students are very excited about," he continued. "Whether they have a lot of performance experience or not at all, students really get into the improvisational activities in Theater Games. The popularity of last year's Video Production seminar has led us to split it into two seminars; we still offer Video Production for students to make short movies, but we now offer Documentary as well for non-fiction filmmaking."
This is Mike's ninth year with the Sheboygan Area School District. He taught for four years at both the Elementary School for the Arts and Academics and Etude High School. Prior to that, he student taught at Pius X High School and Elm Creative Arts Elementary School in Milwaukee. His initial foray into teaching was in the summer of 2001, when he taught Improvisation, Video Production and Acting at the renowned Harand Camp of the Theatre Arts.
After studying film production at the New York Film Academy, Mike also has a love for movies new and old. Lately he's have been watching a lot of old Vincent Price horror films. Mike admits he'd love to perform in a throwback to the old Hammer Horror films.
"The old castle sets would be fun to play around in while wearing a silk dressing gown and a glued-on mustache," he imagined. "Naturally, it would have to be high camp!"
The drama instructor cites Johnny Depp as his favorite actor. "It absolutely astounded me that Ed Wood and Edward Scissorhands were played by the same person, and I think he's continued to pick interesting, idiosyncratic roles since then."
His favorite directors include Tim Burton, Stanley Kubrick, David Lynch and Terry Gilliam.
"Film is a tremendously collaborative affair, so it's remarkable that those men have managed to leave a very distinct stamp on all of their work," he said. "It doesn't hurt that they've made wonderfully entertaining movies as well."
Mike also likes to geocache in his spare time. "I think it's a fun way to keep track of where I've been and to find interesting locations when I travel," Mike explained. "I've found geocaches in twenty-six states and five countries."
Whenever Mike's full name is noted, he requests that his middle initial of Q be used. There's an interesting family story behind that initial.
"My grandfather's name was Tom Hanlon, so my middle name came from him. Unfortunately, a typo on the birth certificate turned it into Qthomas. I like using it because it does stand out a little bit."
And, when your life is all about drama, it's important to stand out.