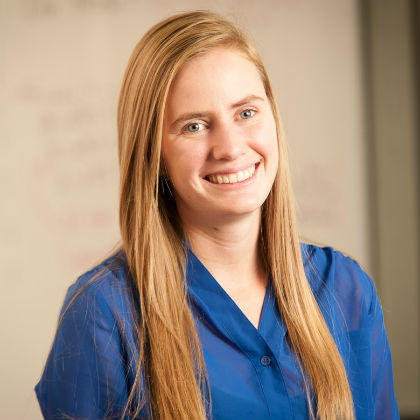 Courtney Kissinger
Middle & High School Dean of Learning, MS Math Teacher, MS Lead Advisor
Office Hours: M: 3:15-4 By Appointment; T: 3:15-4 Guided Work Time; TH: 3:15-4 By Appointment
"Once I started looking into education as a career path, I began to realize I had been training to become an educator for most of my life," shared Courtney Kooistra, who will teach math at Mosaic this fall.
"I was consistently involved in volunteer programs at church, where I would plan activities and work with children," she said. "I had also babysat since I was 12 and worked with children through Rec Department programs. At that point, I took the idea and ran with it to college, where I completed the program for a major in elementary education and dual minors in mathematics and adaptive education in four years. They say time flies when you're having fun, and I agree, but it definitely helps to stay busy!"
That hasn't been a problem for Courtney, who graduated from South in 2007 and from Carroll University in May. This summer, she participated in curriculum training at the College of William and Mary's Center for Gifted Education and – along with other staff members – has spent considerable time on curriculum development.
"Throughout these training sessions, I have been able to develop curriculum, become fully acquainted with the iPads and all that they have to offer, as well as collaborate with the rest of the staff on important school concepts," she explained. "Training is definitely a lot of work when coming in as a new teacher to a new school, but it will all be worth it come September!"
Courtney, 22, is a native of Sheboygan and her parents still live in the house where she grew up as the youngest of four children. Her dad, Mark, is plant manager at Scandia Plastics and her mom, Jerilyn, is a homemaker. Two of Courtney's siblings are also teachers in Sheboygan. Her brother, Aubrey, taught seventh-grade math at Urban Middle School last year and will be teaching 8th-grade math at Farnsworth Middle School this year. Courtney's sister, Meghan, taught at Head Start last year and will be a kindergarten teacher at Sheridan Elementary School this fall. Aubrey's wife, Kendra, is a teacher as well. She teaches special education at James Madison Elementary School.
"It is nice that my siblings are also teachers, and especially that my brother teaches the same subject as I do," she said.
Courtney has another sister, Heather Bingham, who does finance work at TWH Collectibles in Manitowoc. She and husband, Justin, have a 2-month-old daughter, Leighton. "She is the first grandchild on both sides, so she gets plenty of attention!" Courtney related.
Student teaching last school year helped Courtney prepare for her role at Mosaic. She taught during third quarter in a second-grade classroom at Bethesda Elementary in Waukesha. "This is an open concept school where I was able to appreciate the importance of collaboration," she said.
During the fourth quarter, she student-taught in a seventh-grade math class at Wisconsin Hills Middle School, located in the Elmbrook School District in Brookfield. "Here I was able to work with a SMART Board daily and create many interactive lessons that helped the students experience math content through a hands-on approach."
"My passion for teaching mathematics definitely plays into the different innovative ideas I will bring to The Mosaic School," she said. "Currently I am preparing different application projects where the students will utilize their math skills through technology and engineering in order to solve real-world problems."
In addition to math, Courtney loves to sing and dance. She was in choir throughout high school and college and continues to sing whenever she has a chance. She danced a few years at South before moving on to cheerleading, which she did all four years at Carroll.
Long term, Courtney would like to attain a master's degree and focus on intervention with students who need additional assistance with their schooling. "I enjoy working with students on a one-on-one basis, and I believe this would be a perfect fit for me to pursue in the future."