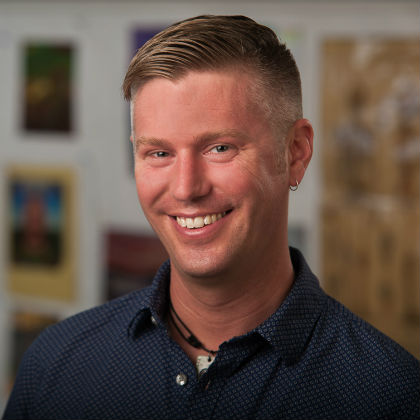 Ryan LaCrosse
Étude Middle & High School
Spanish Teacher, Advisor, GSA
Office Hours : Spanish Room
Monday - 3:15 - 4:00 pm
Thursday - 3:15 - 4:00 pm
Friday - 3:15 - 4:00 pm
...
Ryan LaCrosse believes learning another language is a doorway to understanding the world around you.  "By learning about a language, you learn about the culture at the same time," said Ryan, who teaches Spanish.
"My main goal while teaching is to get students to understand that different does not mean bad, nor does it mean better. It just means different," he shared. "We all need to understand that people come from all different areas and points in life with different experiences."
Ryan grew up in Sheboygan. He took his first Spanish class in eighth grade at Farnsworth Middle School and has been hooked on the language ever since.  "I don't just want people to learn the language," explained the 1998 graduate of South High School. "I want my students to love it and find a great appreciation for those who come from other cultures."
Ryan completed his undergraduate studies at the University of Wisconsin-Oshkosh in 2003, where he majored in Spanish and minored in English as a Second Language. He is certified to teach pre-K through grade 12. He also holds a master's degree in educational technology from Marian University in 2008.
He has been to Mexico three times for study purposes – twice in high school and once in college. He attended a Spanish immersion school in Cuernavaca, Mexico. Ryan said he particularly enjoyed the experience of getting to live with host families.
The Spanish teacher began working in the Sheboygan Area School District in 2004. He has taught multiple grade levels, ranging from elementary to high school.  Ryan has also taught EnglIsh Language Learners (ELL) for the district.
To keep his language skills honed, Ryan enjoys spending time with native Spanish-speaking friends. He also reads books in Spanish, listens to Spanish music and watches some TV programs in Spanish.
Ryan's hobbies include swimming, biking and gardening. He cans and freezes a lot of his own food. Ryan also likes to spend time with his nephew, Gregory. The two of them go for bike rides, swim, play baseball and work in the garden together.
"I want students to be able to take the information they are learning about and make it useful and real-world," he said. "I want my students to have a grasp on the language and learn how to play and have fun with learning it."