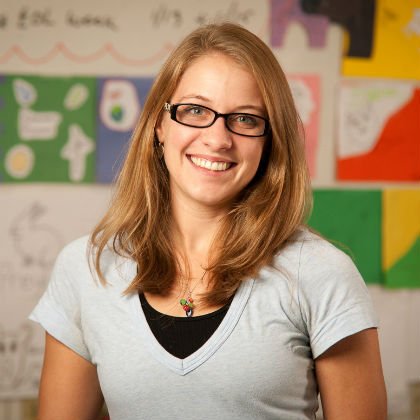 Rachel Meyer
Étude Middle School
Science Teacher, Advisor, Think Tank, Future Cities
Office Hours: M, F 3:15-4:00 or By Appointment. Middle School Science Room
Mrs. Meyer started in education at Saint Norbert College in De Pere, Wisconsin. Through her student teaching experience at Ancilla Primary School In Accra, Ghana West Africa and at Aldo Leopold Middle School she discovered that "education is collaboration. Collaboration empowers students to be able to grow into innovative citizens."
When Mrs. Meyer was in Ghana, she experienced young people who struggled with communication and collaboration. Recognizing that students needed an experience where they would learn from and rely on one another, Mrs. Meyer facilitated the construction of musical instruments and the composition of an original song. For some of them, this was their first collaborative interaction - leading to more dynamic learning opportunities. For Mrs. Meyer, this was one way that she utilized the arts to enhance academic and cultural aspects of the learning environment.
Mrs. Meyer is currently teaching science at The Mosaic School, but is also certified to teach all subjects first through eighth grade. She believes that "science is a journey of wondering and discovery. In order to discover we must ask questions. We must think about those questions and plan investigations. Without those questions we have nothing to investigate."
Students in Mrs. Meyer's class appreciate the culture created where learning is fun but we are all people in this world with other parts of life that sometimes we need to discuss with other people. Within Mrs. Meyer's class there are opportunities to share their thinking about current topics and something current in their life.
One of Mrs. Meyer's favorite parts of being Part of The Etude Group include the opportunity to collaborate with colleagues in an honest way, creating support to benefit our students' experiences through their behavior, academic and social growth.