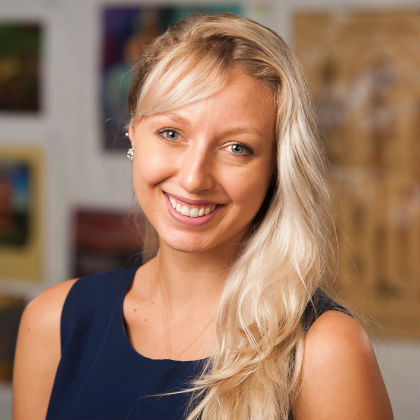 Lexi Jasen
Étude Middle School
Language Arts Teacher
Office Hours: Monday & Thursday 3:15 - 4:00pm
"A book is proof that humans are capable of working magic." -Carl Sagan
The english language can create works of art, and that is exactly what Miss Jasen wants her students to believe.  By teaching her students about reading and writing, Miss Jasen wants to introduce her students to the adventurous, dangerous, and riveting world of literature.  She wants her students to know that words are powerful.  They can be used as a means of self-expression, exploration, and advocacy. . .or just for fun.
In her class, Miss Jasen strives to empower her students, and help them recognize their strengths as writers and readers.  She introduces her students to the world of literature, and helps them find their place within it.  She encourages her students to constantly question, and to push their personal boundaries.
Miss Jasen's teaching career has blossomed out of her love of learning.  She wanted a career that allowed her to continue learning, and the best way to do that was to become a teacher.  Miss Jasen knew that a school like Mosaic would allow her to contribute to a large community of learners, and allow her to share her love of learning with her students.
Miss Jasen has a variety of experiences related to teaching and working in charter schools.  As a college student, she worked for a tutoring and mentoring program in a project-based charter school in West De Pere, WI.  During that time, Miss Jasen was able to work closely with school leaders and administrators to learn about the school and their curriculum.  She witnessed astounding amounts of growth within the students as they progressed through the years, and was fascinated by the workings of the school.  As a student teacher, Miss Jasen was excited to take on the challenge of teaching in a project-based charter school.  She student taught at the John Dewey Academy of Learning in Green Bay, and her time there reinforced her interest in charter schools and project learning.  
After graduation in December, Miss Jasen taught English and Language Arts at a Title-1 middle school in Green Bay for the rest of the year.  Her love of the subject, and of non-traditional schools, led her to apply to the position at Mosaic.  "I've always known that my ultimate goal would be to teach in a non-traditional setting, at a school that is creative and innovative," she said.  "Mosaic is that place for me."